Born Sick is a 5 piece hardcore punk band from Vancouver, WA.
Punx: Who are the members, and what do you play?
Born Sick: Nate Crimes – Guitar, Vocals // Brian Oblivion – Guitar // The Legendary Pall Smenis – Drums // Becky Wrecky – Vocals // Deez Nuts – Bass
Punx: How did the band start?
Born Sick: We met in the rooms of recovery, Nate had just gotten out of a band and really wanted to jam, so Ryan and Nate started jamming. We added Becky and Dee, and then eventually Brian.
Punx: Were you in bands before?
Yes; BDSM, Revolt, Speedwitch, Fatal Fix, Hammered Grunts
Punx: Congrats on getting signed to Die Laughing Records! How did that come about?
Born Sick: We loved what they were doing, and they loved what we were doing. We wrote their podcast theme song, and went from there. Our first release came out July 12, 2019 in the form of a split with hardcore legends Raw Power.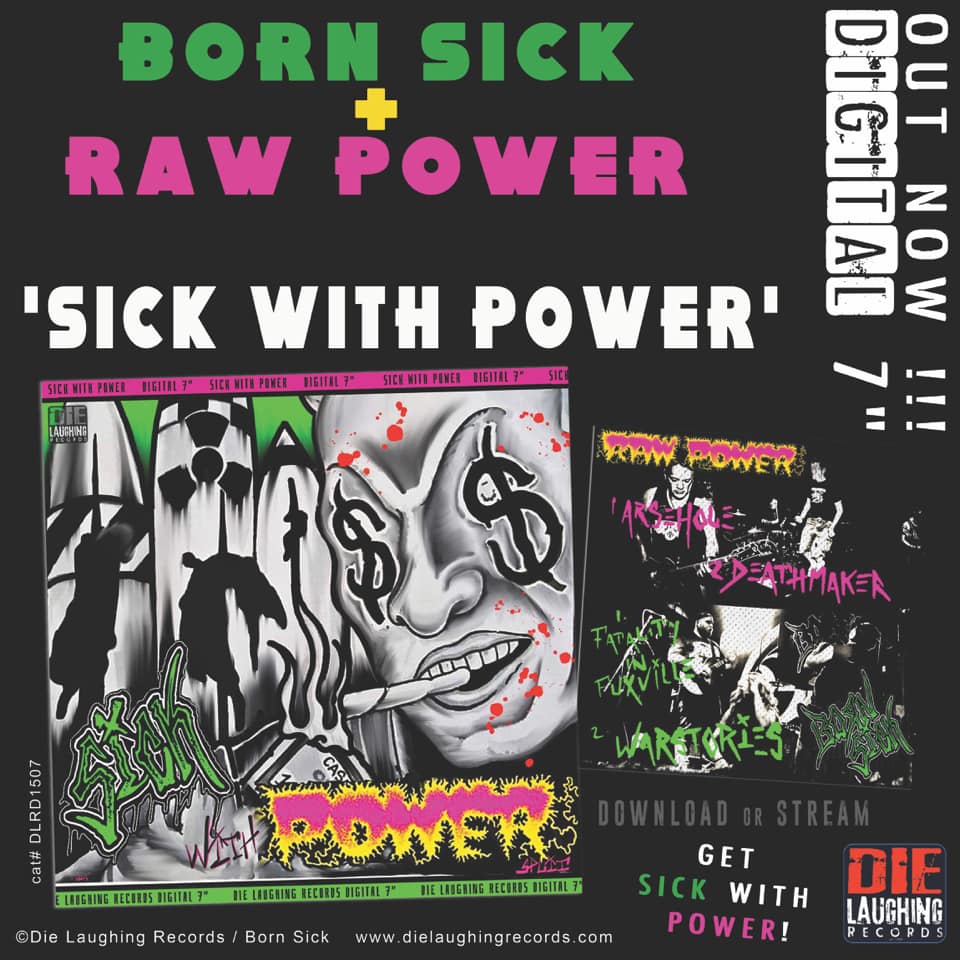 Punx: Do you have a favorite place to play?
Born Sick: Anywhere NOT Portland.
Punx: Favorite bands to share the stage with?
Born Sick: Code 33, Splatter, Noogy, Sidewalk Slam, all the homies bands.
Punx: If you could play with one band (deceased, broken up, whatever) who would it be?
Born Sick: Anti Cimex
Punx: Is it tough being a recovery band in a scene that often glorifies drinking/drugs?
Born Sick: Well, we glorify it too… That's what a lot of our music is about. It was such a huge part of our lives for so long. Now that we are sober, we just like to play badass punk rock, and share our stories through our music. Also, to let people know we've been there. If they are having a hard time finding a way out, we've managed to do it, and are always available for anyone, anytime.
Punx: How was filming Bridge City Sessions? The footage looks incredible.
Born Sick: It was hella fun, and a unique experience. They should be an example to other similar companies in the industry.
Punx: Favorite part of being in a punk band?
Born Sick: Playing punk rock.
Punx: Least favorite part of being in a punk band?
Born Sick: Watching culture become sterile.
Punx: What's next for Born Sick?
Born Sick: Playing punk rock. Summer tour in August. EP in the fall.