For those new to the band, Manson Family Band is fast, angry, and heavy as fuck. Featuring members of Visual Discrimination and Neighborhood Watch.
Punx: Who's in the band and what do you play?
MFB: Our lineup is Marc on Bass , Steve on Lead Guitar , Tim on Vocals, John on Drums and Buster on Rhythm Guitar and backing vocals.
Punx: How'd the band form?
Buster: Tim and I had been kicking around the idea of doing a band, VD was pretty much done and my band, The Right Hand Men, was also done. It seemed like a good time to do something new, although I don't think we really knew what the sound was going to be. We did know we wanted to do something a little different than our previous bands. The band was the lesser of two bad ideas – Maybe Tim can elaborate? 
Tim: There was an idea about starting a new MC in the Southern California area with a similar name, as a few of my brothers from my old club wanted to do something, and of course Buster and I are cut from the same cloth, so it probably would have been a very bad idea at the time. The band seemed like a far more suitable occupation of our time at that point.
Punx: What are your influences?
MFB: As a band we're all over the place, each of us sorta have our own influences but overall, of course, we love Blast, Agnostic Front, Black Sabbath, Thin Lizzy, The Middle Class, Black Flag, Slayer, Excel, High On Fire, DRI, Anthrax, Attitude Adjustment, Discharge, Poison Idea… I could go on and on. Our Drummer John pretty much hates all those bands though (laughs)
Punx: What bands were you in before?
Buster: I was in The Right Hand Men and a bunch of other pretty unknown bands for the last 30 years (laughs)
Tim: I was in Visual Discrimination since the inception in a Cerritos, California garage in winter 1984, also was in Prison, and Final Conflict for a couple years. I sang on the "No Peace on Earth, No Rest In Hell" record
Punx: I heard some people have issues with the band name?
Buster: Oh man yeah, being that we are kind of older and we're basically punks we grew up with bands that had some pretty outrageous names. Dead Kennedys is a prime example, Angry Samoans, MDC, Suicidal Tendencies-You get the idea. When we started talking about what we would do and how we would sound the name Manson Family Band kinda came to mind. In the homage to the great bands I mentioned earlier. I guess it was sorta naive to think people would get it. I mean, I get why some people ain't having it for sure. We've been accused of so many crazy things because of the name.  We gave serious consideration to changing it but at the end of the day we know our music and lifestyle isn't for everyone. So the name stays, but as far as any of the radical crazy shit Uncle Charlie was about goes, it has nothing to do with our band. The name is sort of an acknowledgment of how crazy people can be and how bad people can treat each other.  As a race us humans are pretty fucked.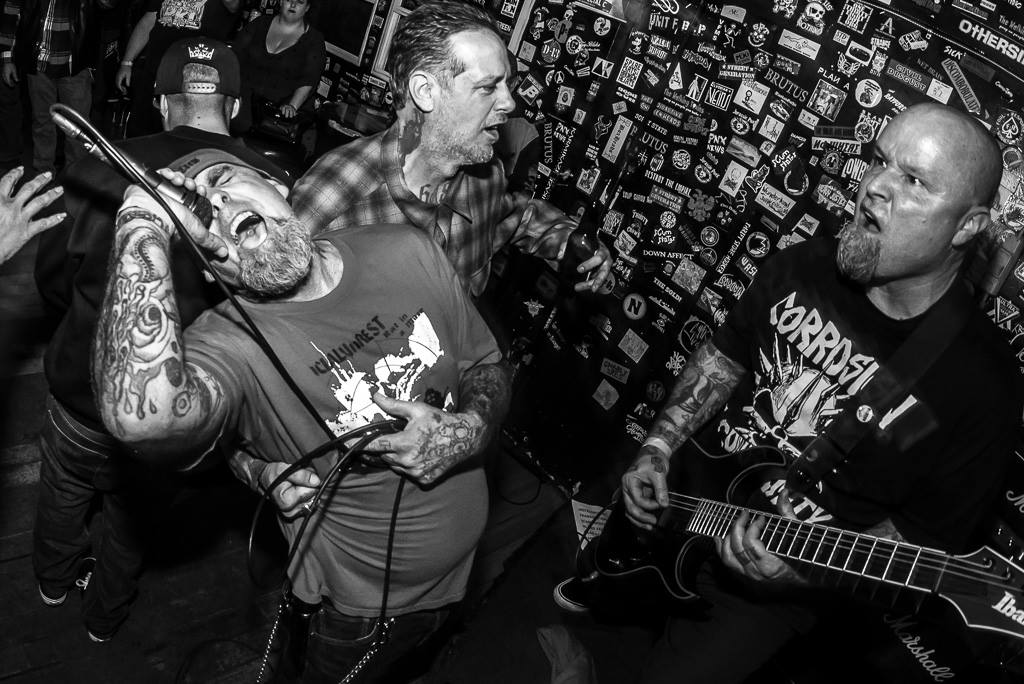 Tim: Well, Buster summed it up in the most PC way possible I guess, so I wont be saying Fuck you to any of the crybabies that don't like our name.

Punx: Favorite part of being in a punk band?
Buster: For me I am really grateful for being able to still waste time with my friends, I dig writing music and playing out, seeing friends.
Tim: Doing something creative, something that starts from ZERO, and turns into something beautiful like a punk rock/hardcore song. Like Buster said also, it's great being with lifelong friends doing this together.  Myself, having been around for a very long time, I love seeing the old friends and faces at the shows as well.
Punx: Least favorite part of being in a punk band?
Buster: Hmmm I think in the past it's always tough micro managing people and attitudes. We've got a great thing with MFB as we've all been friends for most of our lives. So we know each other yah know? So if someone's being a dick they just get busted out on hahaha. No bad attitudes.
Tim: I agree with Buster, in some bands, you're only acquaintances, and it's harder dealing with personalities, whereas we have known each other for decades, and we can tell each other to fuck off, and be ok immediately after. Another bad part of being in a band is, when your starting something new, it's a little harder to get somebody to believe in you, or give you a shot at shows.
Punx: Favorite place to play?
MFB: The Prospector in Long Beach has been a ton of fun.
Punx: Favorite band to share a stage with?
MFB: We've done some pretty fun shows with Beowulf, Shiners Club, Slap Shot, MDC. We'd love to play with Excel or Blast of course. We have fun wherever we play though, so it's all good.
Punx: What's up next for the MFB?
MFB: We're constantly writing, which is a ton of fun, creating something is so rad. We've got a couple shows coming up and will be recording and releasing a full length in 2020!
Punx:  Any closing words? 
Buster:  Thanks for the interview, we really are grateful for anyone who gives us a chance in spite of our crazy name. 
Tim: Yes, everybody loves to get paid for doing something they invest time and money in, but at the same time, we would do this for nothing and we do quite often. We are happy just hanging out together, at practice, in the studio, at shows or even riding our bikes together…4 of the 5 of us are Harley riders, so that's another bond we have. 
Interview by Alex Napiwocki. Edits by Natalie Klibanow