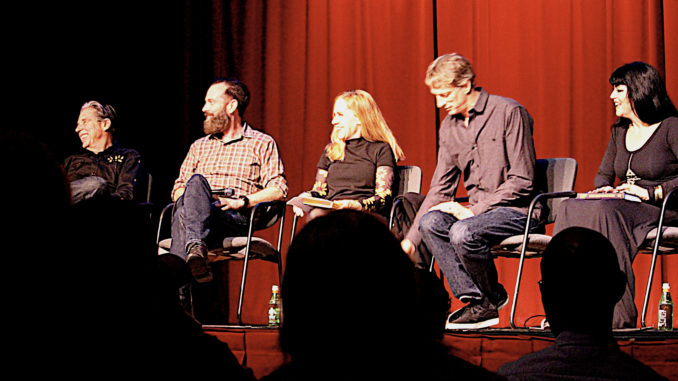 The follow up to John Doe's (and Tom Desavia's) book "Under The Big Black Sun" is out. It's called "More Fun In The New World", and while the first book is about the Los Angeles scene from 76-80, this one is about the years 81-86. Just like the first book, each chapter is written by a different author, so it looks at the same set of years from a lot of different angles.
This panel was fun, perhaps a bit bizarre to be honest. It was hosted by comedian Dana Gould, why Dana Gould? I have no clue, but he was pretty funny. They were all great speakers, which is clearly what connected them beyond being co-authors of this book.
All of them came to the table with very different points of view from the era, and each read an excerpt from their chapters in the book. Pleasant Gehman's (Screaming Sirens) was hysterical and historical, and told never before printed stories of the Cathay de Grande. Tony Hawk's (professional skateboarder) selection focused on how he used the music of his youth to fuel the soundtracks to one of the most successful video game franchises of all time. Caffey's (The GoGo's) was emotional, recounting a time she was so fucked up that she was kicked out of Ozzy Osborne's dressing room! Later on she would share that she's on her third decade of sobriety. John Doe was poetic as always, telling his heartfelt history of LA punk's early years.
The event concluded with a Q&A moderated by Gould. I wish the questions at these things were pre-screened, so many were just long winded thank yous. Which, sure, I'm a fan of these people too, but ask some questions! After the Q&A was a book signing by the panel.
"More Fun In The New World" is now available online and from your local neighborhood book, and punk music stores. Grab it now!
Words by Alex Napiwocki. Edits by Natalie Klibanow.